---
dd some extra smoky wood flavor to your grilled masterpiece with Smoke Tube Barbecue Box! Whether you're a passionate cook or just enjoy spending time in the kitchen preparing fancy meals, Smoke Tube Barbecue Box will be a real help. It works perfectly in any grill: gas, electric or charcoal! You don't need another smoke box and you'll get the job done, every time you grill.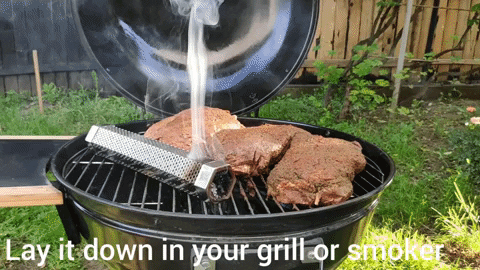 Specifications:
Sufficient Smoke and High Capacity- With the diffusion holes all around the smoke tube, it diffuses smoke efficiently and evenly to the grilled food. It has a length of 12 inches that can hold large capacity of wood pellets and will produce abundant smoke continuously for up to 5 hours.
Applicable for different types of wood pellets for different types of food- This smoke tube can be used with various wood pellets such as cherry, hickory, mesquite, apple, pecan to add different tastes. The 12" tube smoker works with wood chips as well. You can mix these or stack them in the tube. This smoke tube is perfect for hot and cold smoking, adding wonderful smoking flavor to many types of food: meats, cheeses, veggies, nuts, bacon, chicken, salt, burger, steaks, pork, hot dogs, sausages, fruit, corn, and more!
Stable hexagonal design and high-quality material- Unlike the traditional circular smoker tube, the special hexagonal smoker tube can stay steadily and will not roll on grill grate. The whole smoker tube is made of high standard 304 grade stainless steel that is anti-rust and heat-resistant. With excellent workmanship, the smoker tube is very durable and will not be broken or bent after long-time use.
There's really no going wrong with a smoker box or tube because you can use it with your grill without investing in an expensive smoker. We all know a high-quality smoker can take you up to $2000. But, if you want to keep using your own BBQ and love the smoky flavor of wood chips and flavored pellets, then the smoker box is the best solution. 
Package includes
1 x Smoke Tube Barbecue Box
1 x Tube Brush
1 x 2 S Hooks
1 x Silicone Brush
Our Guarantee
We truly believe that we offer some of the most innovative and inspirational products in the world, and we want to make sure we back it up with a risk-free ironclad 30-day guarantee.
Customer Question and Answer
Q: How to use Smoke Tube Barbecue Box?
A:  
STEP 1: Fill the smoker tube with wood pellets/wood chips
STEP 2: Burn with a propane torch for about 15-30 seconds
STEP 3: Make sure the pellets are burned well for 9 minutes.
STEP 4: After 9 minutes, lay it down on your grill or smoker , then lay the tube down in your grill or smoker